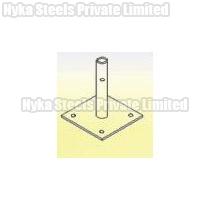 Steel scaffoldings are very useful because they are used in construction works. Apart from construction works, it is also helps in supporting in maintenance. Steel scaffolding helps the workers to get an access to the particular area that requires work. Scaffolding has high strength and that is the reason it can hold a structure.
You may wonder why scaffoldings are made of steel and not aluminum. According to Scaffolding Base Plate Supplier India, steel-made scaffolding is strong and durable than aluminum. Steel scaffolding can take higher load and that is the reason it can take heavy loads under any circumstances. Steel also has elasticity and it can survive at any weather condition. While holding heavy loads it does not bend, at the same time it is not rigid so there is no chance of cracks on it.
However, to work with scaffolding you need to learn about it. It will help you to maintain basic safety.
Things to Know about Scaffolding
Safety rules
While you are working with scaffolding, you need to follow the safety rules related to scaffolding. The Scaffolding Base Plate Supplier should provide you with safety manual so that you can follow. One basic thing that you need to know is, the scaffolding should remain erect on the floor. The floor also has to be solid to let it stay firm.
Proximity to Ladder
The steel-made scaffolding should get to the proximity to ladder. It will be easier for the workers to work with scaffolding while it is holding heavy loads. However, the workers should not use free ladder to increase the height of the scaffolding.
Maintaining a Ratio
While installing scaffoldings, the workers should maintain a specific ratio. For example, free standing scaffolding requires height to base ratio and that is 3:1. If the ratio is not maintained then the scaffolding is likely to tip over.
Size of the Scaffolding
The size of the scaffolding needs to be appropriate. It will not sit on the ground if the size is appropriate. A perfect size will sit on the plank tightly so that it can hold the load. Apart from that, the lumber that the workers use should be of high-grade so that it can have the strength to keep the scaffolding erected on the ground.
So, these are the basic things that you need to learn while working with. Often workers meet accident by stepping on the rolled scaffoldings. So, you need to be careful about the thing while working with it.
Now after learning about the basic information that can ensure safety, you need find a reliable supplier. It is essential to get reliable products from the market so that it can serve the purpose. The quality has to be up to the mark and you need to get it from a reliable source; because a reliable source can offer guaranty on the product quality. If you keep these thing in mind you will be able to get highest quality standards.