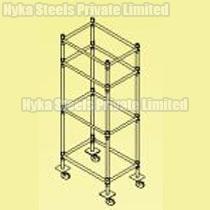 Scaffolding is a provisional structure used to support the structure of a building or the repair of the building or other large structures. It is useful to people also who are involved in the construction work to reach the unreachable high places. It is generally a constructed system of metal pipes or other materials. These days the mobile scaffolding tower manufacturers are helping many people in different industries ensuring security at height.
There are numerous types of scaffolding to choose from that will help you do the job safely.
Types of a scaffolding tower
Scaffolding towers provide reliable support to the workers who perform tasks much higher than the ground level. They can be non-moving support structures as well as mobile scaffolding tower.
The non-moving structures don't shake at all unless they are disassembled for moving. They are heavyweight, made of strong metal like steel, cast iron or aluminium.
Mobile Scaffolding Tower
Other types of scaffolding structure are the mobile scaffolding tower that features wheels or rollers. The Mobile Scaffolding Tower Manufacturers put wheels into it to allow the scaffold to move in a particular area without the need for workers to dismantle it which is necessary to continue the work. Mobile Scaffolding Towers that are manufactured of simple cup lock scaffolding with castor wheels. These are installed at the bottom to move the tower along with materials and workforce to convenient place as per the requirement of our esteemed clientele.
Features of a mobile scaffolding tower
• used to help scaffold to slide deck from front to rear or
• lower and raise the scaffolding to move to a new place
They also have locking mechanisms to keep the scaffolding secure in one place after it has been moved to the desired location. These systems can be assembled quicker than the common scaffolds, and they are cost-effective too. Mainly made of aluminium they are rustproof, easy to maintain and less labour oriented.
Structure of Mobile scaffolding tower
H-frame, light and versatile are three structure varieties supplied by mobile scaffolding tower manufacturers. These can be used where the scaffolding of a particular type is required. These are most appropriate and offers better protection to those who use them.
Best material used
The scaffolds are made from different types of materials by all leading mobile scaffolding tower manufacturers. Aluminium is a highly admired material in many scaffolding. The reason being it is a solid material that weighs less than other materials in construction scaffolding. The lighter weight of this metal makes scaffolding easier to transport than scaffolds made of heavier metals. Safety is the prime concern on any job, and at times more heavy scaffold is a more appropriate choice for a specific job.
Where to procure mobile scaffolding towers?
Numerous mobile scaffolding tower manufacturers in India are capable of providing various types of scaffolding towers. They can fulfil your requirements for mobile scaffolding tower effortlessly. Some of the extra benefits you can get from them are:
1. Customer focused approach
2. Ethical business practices
3. Dexterous manufacturing, R&D, quality inspection, warehousing
4. Procure raw material and from reliable vendors to offer tested products
5. Market leading prices
6. Timely delivery across the nation