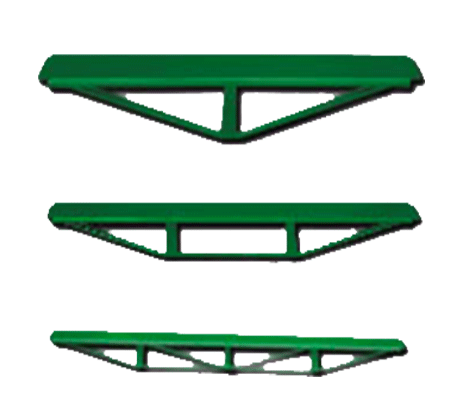 The decking beams are supportive parts, which hold the weight of decking materials. It is fixed with the help of adjustable props or standard verticals. It is bent into a box type and made up of steel rods material. It is available in various lengths to meet the varied requirements of the customers.
The beams are used for the construction of houses and offices. The treated pine is one of the most preferred choices for timbers used in decking beams. It is pressure treated to bear decay, fungi, and termites. The beams are made using light weighted steel with a top flange that zeroes the requirement of plywood infill. It helps to reduce maintenance cost. It is pressed to the ends to prevent against ant accidents.
In the market, the beams are available in an excellent finish with optimum strength and are anti-corrosive in nature.
The decking beam manufacturers in Maharashtra also deal with adjustable telescopic props, telescopic spans, cuplock vertical ledger, scaffolding products, base jack, u jack, rebar coupler, seamless pipes and many more. Several online portals offer decking beams at a discounted price, with the added facility of delivery at the doorsteps.
The reputed manufacturers in Maharashtra offer a qualitative range at the affordable rates. There is a huge demand for such beams, owing to their uses and benefits. The beams are made from high-quality raw materials sourced from the most authorized vendors in the industry. The suppliers ensure the use of the latest technologies so that world-class products are manufactured in bulk quantities, at a lesser price. All beams are manufactured in accordance with the prescribed quality standards and the guidelines, set by the industry. The products pass through stringent quality checks to avoid any damage during transit.
The manufacturers should adopt the following business practices to gain a cutting edge in the market.
1- They should be backed by a team of dexterous professionals, who are highly proficient in handling and processing the orders in a prompt manner.
2- They should make beams with accurate dimensions, robust in structure, fine finished, and long-lasting life. Moreover, they should be equipped with enough capacity to suffice the ever-growing market requirements.
3- They should be equipped with a widespread marketing and distribution network to meet the requirements of geographically distributed clients.
Thus, it can be concluded that decking beams are one of the most sought-after items in recent times and their demand is sprouting day by day.