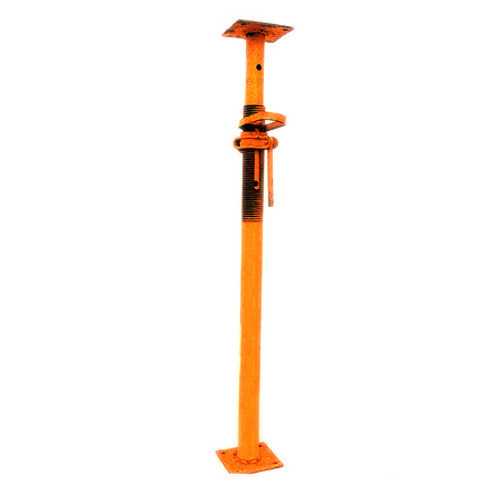 The telescopic props refer to the welded steel tubes with holes for the adjustment of heights. The props can be fastened on upon the other to achieve additional heights. The center hole allows for stirrup head fitment. The nail holes are offered in head and footplates to keep wooden bearers on to props. The props allow are adjusted in height by inserting a lock pin into the holes.
The steel body ensures rust free and corrosion free maintenance. It has a fine finish with superior tensile strength. The surface finish is coated and the thickness is measured at 1.5-2 mm. In the market, it is available in different sizes to meet the varied demands of the customers.
The props are used to support all types of the framework of beams, slabs, walls, and columns. It is compact in size and very commonly used to support formwork shuttering. It offers speedy erection and dismantling without tools. It is very commonly used in the construction units. It is a piece of perfect equipment to be used for the adjustable vertical load-bearing part.
The adjustable telescopic prop suppliers in India also deal with telescopic spans, rebar coupler, scaffolding U head jack, scaffolding H frame, decking beams, seamless pipes, and so on.
There are many manufacturers and suppliers, who deal with adjustable telescopic props and provide it at a very cost-effective price. There is a huge demand for such props, owing to its uses and benefits. The props are made from high-quality raw material, sourced from the most trusted vendors in the industry. The suppliers ensure use of the latest advanced technologies so that world-class products are manufactured in bulk quantities, at a lesser price. All props are manufactured in accordance with the prescribed quality standards and the guidelines, set by the industry. The manufactured products pass through stringent quality checks before the dispatch. The adjustable telescopic prop suppliers in India offer their range in a quality packaging to avoid the chances of damages during the transit.
To make this trade more profitable, one should keep in mind the following points:
1- By making people aware of the uses and benefits of the product.
2- By appointing highly experienced staff, which is proficient enough to understand the technical complications and plan the marketing strategies accordingly.
3- By cutting down the price to reduce the cut-throat competition in the market.
Thus, it can be concluded that the adjustable telescopic props are irreplaceable and the dealers dealing with it are earning huge revenues.